MENU
Awamori distilled liquor / 泡盛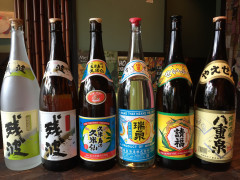 泡盛は日本最古の蒸留酒ですが、世界でも珍しい、黒麹で発酵させているのが特徴です。(黒麹で作られた焼酎は明治以降に泡盛の黒麹を用いて作られたものがルーツです。)酔い醒めすっきり☆独特な香りと味わいは500年以上前から愛され、今なお沖縄で絶大な人気を誇るお酒です。
また、泡盛のなかでも最低3年以上寝かせて熟成させたものだけが古酒(くーす)と表示してよいという厳格な決まりがあり、古酒は寝かせるほどまろやかで深みのある味わいとなるため、沖縄では20年・30年と大事に貯蔵している家庭もあるほどです。
Awamori is a oldest distilled spirit in Japan, and characteristic that's way of alcoholic fermentation rare in the world. Awamori made alcoholic from Indica rice with black rice malt. sweet aroma and sharp taste. it is hard to hangover.
Awamori that were stored for three years or more has been called KU-SU.
KU-SU became the rich and round taste enough to by go through the years.